We plan 4 excursion courses (Kiyomizudera Temple, Kinkakuji Temple, Uji. and Hieizan Mountain Hiking the details are below) on Sep. 5th. If you would like to attend one of them, please sign up the registration forms for excursion on the registration desk. The number of participants in each course may be limited. First come, first served!
<![if !supportLists]>・ <![endif]>We start from the conference hall at . Please finish your lunch until then.
<![if !supportLists]>・ <![endif]>We will pay your transportation fees while please pay entrance fee to each temple by yourself.
Course Guide
<![if !supportLists]>1. <![endif]>Kiyomizudera Temple Course
Kiyomizudera Temple (Entrance-fee 300yen): One of the most famous temple in Kyoto. There are many souvenir shops on the approach to Kiyomizu-temple. The view from Kiyomizu-stage is very nice.
<![if !vml]>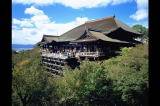 <![endif]>
Kodaiji Temple (Entrance-fee 600yen): There is a wide temple grounds. The approach to Kodai-temple is a typical old Kyoto road.
Yasaka-iinja Shrine and Maruyama-Park (Entrance Free): Rich natural environment. Very close to Gion (traditional Kyoto night spot)! After excursion, you can go to Gion.
2. Kinkakuji Temple Course
Kinkakuji Temple (Golden Pavilion) (Entrance-fee 400yen): The Golden Pavilion (Kinkaku) is literally covered in gold - gold leaf. The Golden Pavilion is World Heritage listed and surround by beautiful gardens.
Ryoanji Temple (Entrance-fee 500yen): Ryoan-ji is a well-known Zen Buddhist temple famous for its beautiful rock garden.
<![if !vml]>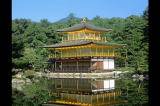 <![endif]>
<![if !supportLists]>3. <![endif]>Uji Course  
By taking a 30 min. train ride, we will get to Uji station. Uji is famous for Japanese tea and two UNESCO World Heritages which we will visit. They are within 10-20 min. walk distance from the station. There are many souvenir shops in the area.
Uji Byoudouin (Entrance-fee 600yen): This temple is carved in ten yen coin.
<![if !vml]>

<![endif]><![if !vml]>

<![endif]>Ujigami-jinja Shrine (Entrance Free) :This is bbelieved to be the oldest existing shrine building in Japan.
<![if !supportLists]>4. <![endif]>Hiei-zan mountain hiking.
An eight kilometer hiking (some 700 meter elevation). Will depart at 1240 from the conference site and take lunch together to save time. This option is subject to change (or cancel) due to the number of interested people and/or the weather. For more details, please contact to the organizers at the registration desk.