* Since August is in a high season, it is strongly recommended to reserve a room and
your air ticket as soon as possible.
Conference Hotel: Holiday Inn Seongbuk Google Map
* We recommend you to stay at this hotel. A group block of rooms at the Holiday Inn Seongbuk hotel has been reserved for AQIS¡¯08 with a special price. For reservation, please send the form (Form in MS-Word) to the Hotel by E-mail (with a title "AQIS") or fax by August 10.You should clarify you are a AQIS participant to get a discount. Rooms are assigned by the first-come-first-served basis.
No more room is available (Aug 18)
Email: hjlee@holiday.co.kr
FAX: +82-2-3291-3288
If you have not received an confirmation mail from the hotel within a few days, they probably miss your request.
So please contact again.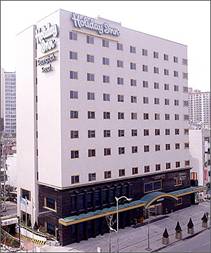 Hotels in Seoul are rather expensive and there are few hotels around KIAS. AQIS'08 has a special package deal with the main hotel (Holiday Inn Seongbuk) for the participants.
* The price is per night, and not per person. Thus, you can save money by sharing a twin bed room with your colleagues.
(Maximum 3 persons can share a room. In this case the hotel will provide a free extra bed )
One free breakfast ticket per night is provided by the hotel for each room (not per person).
Extra breakfast ticket is 1,2100 KRW. (We will also provide some sandwitches at the conferece site in the mornig.)
* The price for Koreans is 10% higher than the value in the form due to tax.
It will take less than 10 min. by bus which we will provide every morning and evening, from this hotel to the conference site (KIAS).
The hotel has no wireless internet but each room has a free internet cable connector and you can borrow an internet cable at the desk.
This hotel is at 2 km distance from KIAS. There is an airpot limousine bus
to go to this hotel. See also Travel page for details.
* We will reserve rooms for invited speakers and tutorial lecturers, if they inform us the check in/check out dates.
<![if !vml]>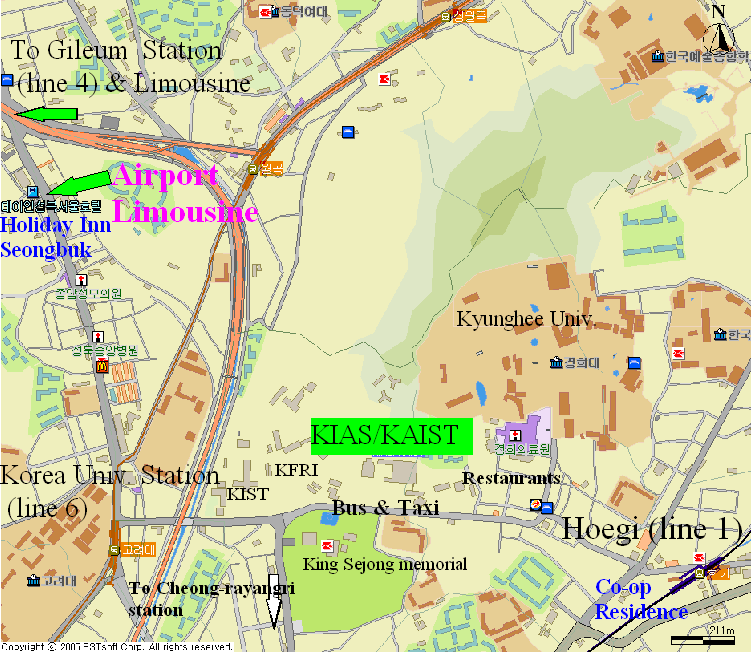 <![endif]>
Less expensive Accomodation:
(Not reserved. You should reserve by yourself)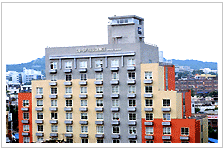 Near Hoegi subway station. 20 min walk distance from KIAS. To get a discount please inform the residence
Good for young people. Residence is not a hotel but a building of many very small studios.
Cost: about 50,000 per night.
Tell them you are invited by KAIST (KIAS is a part of KAIST) to get a discount.
When you arrive, the desk may request you prepayment and a copy of your passport.
Near Dongdaemun subway station.
It will take more than 40 min from here to KIAS using public transports.
Near Korea university. Cheap but room is very small and uncomportable.\
There are many hotels at the center of Seoul. You can make a reservation at the sites below.
However, generally, it will take more than 40 min from the hotels to KIAS using public transports.
Victoria Hotel http://www.asiarooms.com/south_korea/seoul/victoria.html